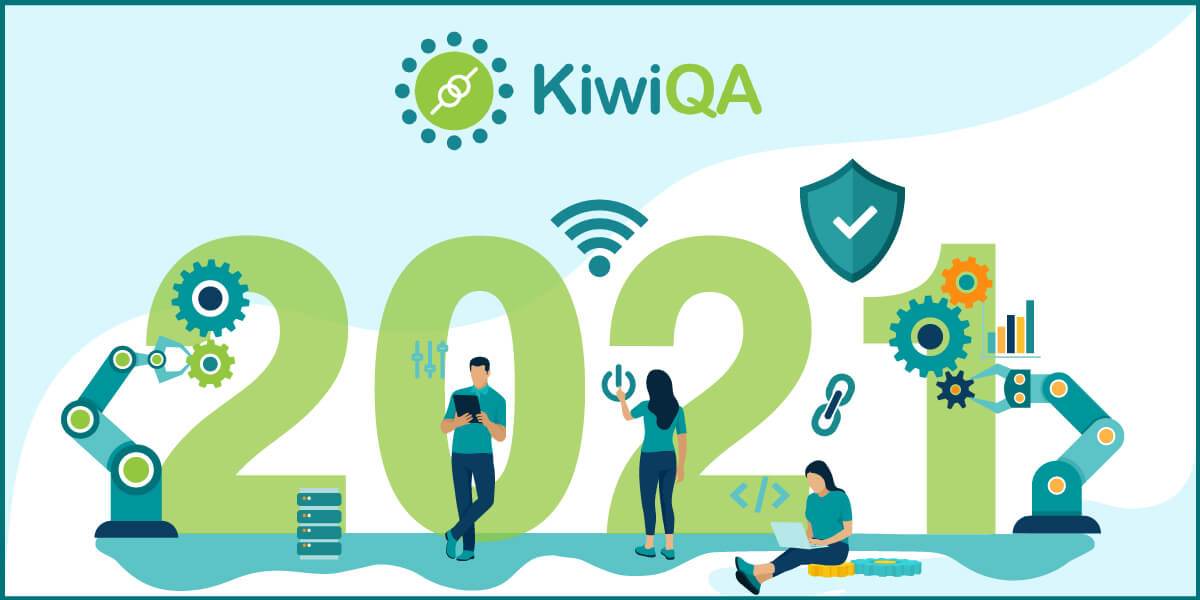 We are almost in the mid of 2021 and a significant number of advancements have been made in the field of software testing. This is particularly applicable to automation testing which can be loosely considered as the backbone of testing any type of web product.
The combination of Artificial Intelligence (AI) and test automation can be cited as the most emerging trend of 2021. As per reports[1], the software automation testing market is expected to grow at a CAGR (Compound Annual Growth Rate) of 14.2 percent during the forecast period 2021 to 2026. What is expected to drive this phenomenal growth?
In this blog, we deep dive into the top automation testing trends for 2021 – the trends that are expected to shape up the automation testing industry.
1. Codeless Automation
There has been a lot of buzz about codeless (or scriptless) automation. Amidst the entire buzz, the positive side is that codeless automation is making significant inroads in the software automation testing industry.
The major upside of using scriptless test automation is that automation testers do not have to write a single line of code for implementing the automation test scenarios. Leapwork, Perfecto, Katalon Studio, etc. are some of the major codeless testing tools that you should check out in 2021.
Though these tools are largely similar to 'Play & Record Tools', they are much more powerful & advanced than their counterpart(s). Scriptless test automation not only eases the task of coming up with automation test scenarios but also helps in improving the test coverage.
All these combined factors lead to reduced test automation time and improved product quality. All in all, codeless automation testing will witness higher adoption in 2021 and beyond!
Also Read: A Complete Guide to Dos and Don'ts of Test Automation
2. Robotic Process Automation (RPA)
RPA is widely used for automating mundane (or repetitive) business processes. There is a myth that Robotic Process Automation (RPA) is similar to automation testing. However, the difference majorly lies in the intended target for automation.
Automation testing is used to test product features through automation whereas RPA can be applied to products as well as business processes.

RPA leverages the potential offered by AI, ML (Machine Learning), Cognitive Computing, and IoT (Internet of Things) for the creation of software bots that automate tasks. RPA is expected to gain wider adoption in fields like banking, Human Resources (HR), IT Services, and more.
UiPath is by far the leading tool used by businesses for automating repetitive tasks.
Also Read: Difference between Robotic Process Automation and Test Automation
3. Automation Testing of Mobile Apps
It is a known fact that many consumers might be accessing your website (or web app) using their mobile devices. The mobile-first approach in building websites is more so relevant in 2021. Unlike automation testing of websites; testing of mobile applications (native, mobile web, and hybrid) has not gained significant adoption.
However, things might change in 2021 with an increasing number of enterprises embracing mobile automation testing tools like Appium, Ranorex, Selenrdoid, etc. to test mobile apps in a more rigorous manner.
Enterprises that do not have in-house expertise with automation testing are more likely to partner with an automation testing company like KiwiQA that has expertise in providing a range of testing services.

4. Performance Testing
Interconnectivity between devices and platforms is expected to reach a new high in 2021. The rapid penetration of Internet of Things (IoT) devices can be attributed to this explosive growth. IoT lets interconnected devices share data and information whilst keeping the security & privacy protocols in place.
As per reports[2], the global IoT market size is expected to reach $1.6 trillion by 2025. Enterprises building consumer apps need to give thrust to mobile app testing for ensuring that the app is compatible on different devices and platforms. This is where performance testing will play a major role in delivering a consistent application delivery.
Performance testing will also help in ensuring that the app performs well under throttling network conditions. The usage of tools like Matlab, SimuLink, IOTIFY, and other simulators will gain significant adoption in 2021. These tools will be instrumental in optimizing the apps for handling multiple devices and commands.
Also Read: A Comprehensive Guide To Software Performance Testing
5. Outsourced Software Testing
Automation testing tools like Selenium, Cypress, etc. have been increasingly used by enterprises for testing the web product features across different browsers and devices. Apart from choosing the best-suited automation testing tools, it is integral to leverage the tool's capabilities to expedite the testing process.
Building an in-house QA team (with a focus on automation testing) can be challenging, especially if you do not have the right type of resources in place. Instead, outsourced software testing not only yields savings but also helps in expediting the testing activity.
The trend of outsourced software testing will gain momentum in 2021 as product enterprises will use software test automation services to reduce Time-to-Market (TTM). Do have a look at the exhaustive checklist that will help in partnering with an ideal software test automation services company.

6. Automation in Risk Compliance and Security Testing
Data compliance and data security have been around for a long time. However, it will change the gamut of automation testing in a big way in 2021. Before we get there, let's hit the rewind button to look at the Facebook-Cambridge Analytica saga that created waves in 2018 due to the gross violation of GDPR (General Data Protection Regulation) rights[3].
The bottom line is that your business should be GDPR compliant if the product is being developed in the EU (European Union). On the other hand, adherence to CCPA (California Consumer Privacy Act) is mandatory if the product is developed for the US market. Compliance acts like GDPR and CCPA give consumers more control over the personal information that is collected by businesses. Businesses would not only need consumer's consent to share their data with third parties but would also need to disclose the categories of the third parties with whom their data will be shared.
So, how does this change the game of software automation testing? Well, businesses can no longer use consumer's data (or real data) to test real-time scenarios. Chef.io that scans the entire software system to pull out details of the test data that is not compliant with the security standards will witness more adoption in 2021.
Tools like Dataprof and EMS Data Generator will be of significant use in 2021 as they help in generating test data that simulate real-world scenario. You get all of this while ensuring that the security and privacy laws are met.
Automation in risk compliance and security will be one of the most prominent automation testing trends of 2021.
Also Read: 10 Things You Should Know Before Starting Automation Testing
7. Automation Testing on the Cloud
2020 was the year where software businesses realized the growing importance of digitization and cloud-based technologies. The global COVID-19 pandemic resulted in an abrupt shift to working from home (WFH). Due to this monumental shift, enterprises realized the importance of building a robust infrastructure that offers higher scalability and reliability.
Instead of investing in building a fragile in-house infrastructure, enterprises (or businesses) are willing to leverage the potential of cloud platforms to achieve improved scalability and security.
Automation testing on the cloud for websites and web apps will gain significant traction in 2021 and beyond. Also, servers used for other forms of testing will be increasingly shifted using cloud and virtualization.
Rather than investing in a non-scalable and non-reliable in-house infrastructure, businesses would leverage the potential offered by cloud-based test automation tools to improve test coverage and expedite TTM.

Conclusion
In this blog, we covered the major automation testing trends that are likely to gain pace in 2021. Wider adoption of Agile, DevOps, & CI/CD will help in testing and distribution of web (and mobile) apps. Not only that, NoOps will be instrumental in automating the work of the DevOps (or Ops) team. In a nutshell, DevOps and NoOps will gain significant momentum in 2021 & beyond.
The potential offered by AI, ML, and codeless automation will have a major impact on all the aspects related to automation testing of web products. Rather than re-inventing the wheel, it makes perfect business sense to partner with a reliable & global provider of software test automation services to accelerate the software testing process.
What is the top automation testing trend of 2021? Do leave your choice in the comments section…